FAQ
1. What is 95210?
The 95210 Health Tracker is a rewards-driven way for employees to set daily and weekly goals and track their daily health and wellness that matters the most for a healthier life. Owen J Roberts School District subscribes to 95210 to create a custom account for staff (and eventually family and friends).
2. Do I need a fitbit to participate?
95210 syncs with fitbit and jawbone devices, which makes tracking steps easier, but anyone can track steps using a pedometer or smart phone by entering steps manually into the tracker.
3. What does 95210 stand for?
9 Hours of Sleep per night
5 Servings of Fruits and Vegetables
2 Hours recreational screen time
1 Hour recreational activity/day
0 Sugary beverages and tobacco
95210 provides an easy and quick opportunity to track one or more of the numbers that matter the most to your health: sleep, nutrition, exercise, recreation screen time, sugary drinks and snacks, exposure to tobacco, walking steps, cups of water and weight loss.
4. How do I sync with fitbit or jawbone?
There is a blue bar of icons which runs under the banner photo. On the right click the person icon and the last option is customize account. You sync wearables and customize your account in other ways there.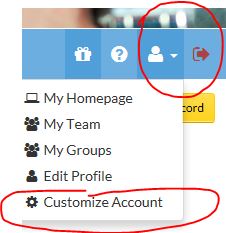 5. Who sees my information?
A. If you are registered as an individual member, then other members may only see some of your data if you join a personal group. If you are registered into a company or organization group, members may view each other's monthly totals and data for: a) cups of water, b) exercise minutes, c) fruits and vegetables, d) monthly points, e) percentage of weight change*, f) walking steps, and possibly g) number of days tobacco-free**. This data is also provided to group Admins so that they may evaluate and improve their wellness program and encourage participating individuals to be healthier over time.
Members who do not want other members to see their data may select "I wish to be an Anonymous Member" on their Profile page, and this will remove their name and data from the group page.
Data not shared with the group admins, and only seen by members are: a) hours of sleep, b) screentime, c) sodas and sugary drinks, d) multivitamins and supplements, e) weightlifting, and f) actual weight, g) health journal entries (unless made public by the member), and h) gratitude journal entries.
* The percentage of weight change (not the member's actual weight) is displayed on a challenge Leaderboard only when a group admin has created a weight-loss challenge.
** The number of days being tobacco-free is displayed on a challenge Leaderboard only when a group admin has created a tobacco-free challenge.
6. How is data captured for tracking on 95210?
There are two ways that 95210 can track your health habits. An "automatic" way of tracking is to have your Fitbit or Jawbone sync with the website (See #4 on the FAQ list for how to connect your wearable device with your 95210 account). 95210 has the ability to sync the following: water intake, walking steps, sleep hours, and weight. Alternatively, your information can be entered manually via the "Tracking" section of the website. Definitely explore this area of the site as there are other habits that can also be tracked to help gain perspective on your everyday health!
For automatic sync with a wearable device, 95210 reads data from the fitbit or jawbone servers twice per day, so data won't display in "real time". Definitely check in every few days--and especially at the end of a challenge to make sure information has synced.
7. Why are some days "greyed" out when I track activities?
Fit for Life 95210 operates on a schedule. It is important not to go longer than 7 days to track information (you will see days beyond 7 back greyed out). After that, the data has been "captured" and recorded in the database. There is a work-around, of course, although not preferred. If you are manually inserting steps, just add days together so you don't lose your steps.

The syncing schedule for fitbit/jawbone is a bit different than manual tracking. 95210 syncs with Fitbit and Jawbone 3 times a day
BACK 3 DAYS
. IF your fitbit isn't syncing to the fitbit server, your data will not be there for 95210 to grab. (It is possible your wearable may show steps, but has not sent them to the server--or "synced".) It is a great idea to check at least every couple of days to make sure your fitbit has synced.